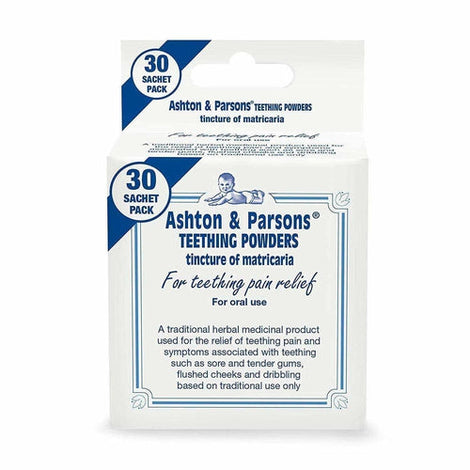 Ashton & Parsons Infants Herbal Teething Pain Relief Powder, Pack of 30
Ashton & Parsons teething powders are a gentle, natural remedy, used for the pain and symptoms associated with teething Used for over 150 years and trusted by generations of parents Contains Tincture of Matricaria, which is extracted from German chamomile flower heads For babies 3-6 months, use half a sachet...
Trusted UK Brand. Worldwide Shipping. 6 Months Warranty.
Ashton & Parsons teething powders are a gentle, natural remedy, used for the pain and symptoms associated with teething
Used for over 150 years and trusted by generations of parents
Contains Tincture of Matricaria, which is extracted from German chamomile flower heads
For babies 3-6 months, use half a sachet in the morning and half a sachet in the evening. Simply pour dry powder on your baby's tongue. We recommend tipping half into a teaspoon and keeping the other half in a sachet
For babies over 6 months, Pour dry sachet contents onto baby's tongue in morning and once in the evening. If the child is very restless, the dose may be repeated every 1, 2 or 3 hours if necessary until improvement occurs. The maximum dose is 6 doses in 24 hours
| | |
| --- | --- |
| Product Name | Ashton & Parsons Infants Teething Pain Relief Powder, Pack of 30 SACHET |
| Safety Warning | Keep this medicine out of the sight and reach of children. Do not use this medicine if before first use you find the end seals are broken. Do not give more than the label tells you to. If symptoms persist for more than 7 days, speak to your doctor. If you give your child more than you should, it may cause diarrhoea. If the infant experiences any side effects, stop using this medicine and speak to your doctor or pharmacist. Possible side effects Like all medicines, this medicine can cause side effects, although not everybody gets them. Possible side effects: allergic reaction which may include rash, tongue sores. Reporting of side effects If your child gets any side effects, talk to your doctor or pharmacist. This includes any possible side effects not listed in this leaflet. You can also report side effects directly via the internet at www.mhra.gov.uk/yellowcard. By reporting side effects you can help provide more information on the safety of this medicine. Before using these powders Do not use if your child Is allergic to tincture of matricaria, lactose or to plants of the Asteraceae/Compositae family such as daisies, marigolds or artichokes Has an intolerance to some sugars, unless your doctor tells you to (this medicine contains lactose). Warning: This medicine may cause an allergic reaction or make existing conditions worse in children who suffer from allergic type conditions (e.g. asthma). |
| Units | 30 each |
| Storage Instructions | store this medicine below 25°c. use by the expiry date on the sachet/carton (exp). |
| Manufacturer contact | THR Holder: Alliance Pharmaceuticals Limited, SN15 2BB, UK. Manufacturer: Pharmapac (UK) Limited, CH41 7EL, UK. |
| Location Produced In | United Kingdom |
| Brand | Ashton & Parsons |
| Format | Powder |
|   |   |
Measuring for a Necklace
Measure in centimetres leaving a 2 finger gap between the neck and the tape.
Ensure it is not too long as they can get it over their chin and into the mouth.
Amber is not for chewing and as it is a resin it will shatter under pressure.
If it is too tight it could be uncomfortable and pose a risk.
We sell necklaces from 28cm up to 40cm for children and 40cm to 70cm for adults.
Measuring for Anklets and Bracelets
Ensure the fit is snug and not too loose as it will roll over the ankle and fall off.
If it is too tight it will become uncomfortable.
Measure the child in the standing position to ensure the ankles can flex correctly with comfort when walking.
Measure in centimeters using a measuring tape or a piece of string and a ruler.
You should be able to get the tip of your finger under the tape.
Please note, children between 3 and 5 years old should wear as an anklet and not a bracelet.
UK tracked first class postage and packing is just £3
In addition flat rate postage to the rest of Europe will be capped at £5.99 for amber.
International tracked postage will be capped at £9.99
You can request tracked international postage by emailing us prior to ordering.
Fast Shipping! Items sent on the same day if ordered before 3pm Monday-Friday.
All amber / gemstone orders will be sent by Royal Mail First Class in a protective padded envelope
Delivery in the UK from 2-3 days after you receive the dispatch email
Delivery in Europe (6-10 days) and Worldwide from 12 – 14 days
We have no control over exact postal services time once they leave our hands via Royal Mail. The above are estimated times only.
The Seller shall not be held liable for any losses, expenses or consequential loss incurred by the Buyer or any other person or company however arising whether directly or indirectly out of a failure to meet an estimated delivery date. The Buyer will be notified by (Dispatch Confirmation) email once the order has been dispatched. You can also log into your account to check your order status.
Missed Delivery: If you have missed a delivery you should follow the instructions left by the Royal Mail.
Returns

&

Exchanges
Returned goods preferably need to be in original package and returned within 30 days of defect. Please ensure you have paid the correct postage (First class large letter stamp) and you use a padded envelope. Non padded envelopes have arrived here empty! There is nothing we can do if that happens.
The Buyer must obtain a proof of posting certificate (or country equivalent) from Royal Mail or equivalent postal service.
Please ensure outside packaging is secure. We cannot be liable for loss or damage in the post due to inadequate packaging.
For your full peace of mind we offer a 365 day warranty for material and workmanship. Please note we cannot accept responsibility for damage resulting from misuse.
If exchanging please include £3 for return postage and packing. If returning for a bigger size, please include the price difference or your paypal email so we can invoice you for the extra cost.
Please note when returning for a refund, the original purchase price includes postage and packing of £3. This is not refundable.
Please return to 2 Haygreen Road, Witham, Essex, CM8 1FS
If you receive a defective item we will replace it. Please return the item to us with a note explaining the defect.
Consumers have the right to cancel purchases from 7 days of receipt and this must be put in writing.
If when you order and we are out of stock, we will offer you an alternative product.
If this is not what you want then we will issue you with an immediate refund.
You must contact us within 48 hours of receipt of goods if you wish to return part or all of your Order.
Consumer Protection (Distance Selling) Regulations 2000 and colour reproduction.
Please note that we try our hardest to reproduce the colours of the products with the photographs on our page. However, this is not always possible and the colours may differ very slightly due to it being a natural product and no two pieces are identical.
If you are unhappy with your product when you receive it please contact us within 48 hours of the day the order was delivered (cooling off period), then we will gladly refund your money on receipt of the returned product in accordance with our return policy.
We do not refund the postage or packing cost of returning any product.
Faulty or damaged products can be returned for a full refund or replacement at the discretion of the customer.
Your account will be credited within 14 days of receipt of the returned goods.
We always treat customers as we wish to be treated and will help resolve issues as quick as possible.
We abide fully with distance selling regulations.
Some things to try before returning
If the anklet is slightly tight, you can tighten the little knots by pulling gently but don' t hold by clasps when doing so as they will snap. You should be able to gain a centimetre by doing this. It that doesn't work, please return for larger but there may be further costs involved as bigger items cost slightly more.

If you purchased two anklets for one child and they are slightly tight or you find it hard to fasten them on your little wriggler then you can screw together, wrap around and fasten.

If you have purchased two anklets and they are too big, you can entwine them by adding one to the anklet, then weaving the other (under and over) and fasten as that will keep them both on.

If the child likes to pull them, please keep hidden under a sock as pulling hard will cause them to snap at the safety clasps.
Please feel free to contact me if you need any more information.