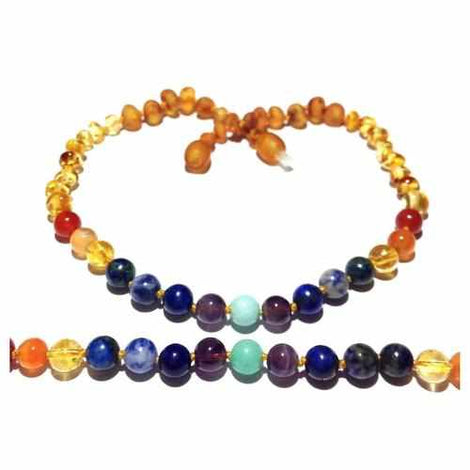 Childs Iris Honey Baltic Amber Beads and Mixed Gemstones Necklace
Delicate design for occasional wear and not everyday use. Please supervise when wearing. Handmade with genuine raw unpolished and polished honey Baltic amber,e amazonite, amethyst, lapis lazuli, sodalite, chrysocolla, citrine, aventurine and carnelian gemstone beads. Double knotted for safety and fitted with a screw clasp. FAST Postage direct from the...
Trusted UK Brand. Worldwide Shipping. 6 Months Warranty.
Delicate design for occasional wear and not everyday use.
Please supervise when wearing.
Handmade with genuine raw unpolished and polished honey Baltic amber,e

amazonite, amethyst, lapis lazuli, sodalite, chrysocolla, citrine, aventurine and carnelian gemstone beads.

Double knotted for safety and fitted with a screw clasp.
FAST Postage direct from the UK.
Free Love Amber x hessian gift bag.
Free 6 Month warranty as standard.
Signature Rainbow Love Amber x Design. Handmade child's necklace with amazonite, amethyst, lapis lazuli, sodalite, chrysocolla, citrine, aventurine, carnelian, polished and raw honey Baltic amber beads. The Amber beads flow from polished honey to raw honey at the clasps. I named this iris as this is another name for a rainbow.
Amazonite (Heart & Throat Chakra) Truth, communication, harmony. creative expression, joy, artistic expression. Helps emotional processes allowing for the elimination of worries and fears. Dispels irritating and negative energy. Brings clarity, clear spirit and balance of personality.
Sodalite encourages being true to self and standing up for your beliefs. A stone of self-expression and confidence, sodalite can aid in issues of self-worth, self-acceptance, and self-esteem. Sodalite promotes intuition and a trust in one's own judgment, which can be a great ally in daily life.
Lapis Lazuli "The stone of wisdom" is an excellent stone for stimulating wisdom and good judgment in the practical world. It is a powerful crystal for enhancing intellectual ability. It stimulates the desire for knowledge, truth and understanding, and aids the process of learning. It is also a stone of friendship and brings harmony in relationships.
Carnelian is a powerful Sacral Chakra Stone. It increases personal power and physical energy, gives courage, and boosts creativity and compassion. Wearing Carnelian can enhance vitality and will, providing the higher energy needed when approaching new projects and dreams.
Citrine is a fabulous stone to use to combat negative energy of any kind by breaking them up and dissipating them. It is helpful to clear unwanted energies from the environment. Citrine is a happy stone. It can bring happiness to the person who carries or wears it. Because of its removal of negative energy and bring positivity, it can help relieve self-doubt, anger and irrational mood swings.
Chrysocolla Encourages self-awareness and inner balance. Imparts confidence and sensitivity. Chrysocolla enhances personal power and inspires creativity. It is said to help overcomes phobias by drawing out negativity and supplying motivation. Reduces mental tension.
Amethyst: is a natural stress reliever that also encourages inner strength, spirituality and intuition. It attracts positive energy while ridding the body or your home of negative energy. Promotes sobriety, helps break addictions; encourages spiritual awakening and peace; transformation and meditation; calms, balances, and clears aura. Encourages a quiet and calm mind. Aids sleep, dreaming, inspiration and intuition. Helps balance the brow chakra.
Aventurine releases old patterns, habits and disappointments so new growth can take place. It brings optimism and a zest for life, allowing one to move forward with confidence and to embrace change. It enhances one's creativity and motivation and encourages perseverance in manoeuvring life's obstacles.
Each bead is rounded so that they lay comfortably against the skin.
The string is also double knotted before each clasp fastening so no beads should come off.
They are fastened with a plastic screw barrel clasp that is designed to break if pulled. It also opens and closes easily.
*Lapis lazuli has an enhanced colour as they are naturally lighter with calcite inclusions. While every care is taken to remove the excess colour before beading, some colour transfer may occur in hot or sweaty conditions. Please remove and soak in very warm water for 20 mins and air dry if this occurs.
To minimise exchanges and further costs, please ensure you have measured correctly before ordering. See the measuring guide here
Warning
OUR NECKLACES, BRACELETS AND ANKLETS ARE NOT TOYS
EU Toy safety regulations EN-71-1 states that necklaces and anklets are not suitable to use as toys/jewellery for children under 36 months.
Please do not allow your children to play with or chew on them.
Children over 36 months are to wear under adult supervision.
When not being worn, keep out of reach of children.
All images, designs, packaging and components are copyrighted to Love Amber X Ltd Baltic Amber & Silicone Teething Jewellery and may not be copied or reproduced in any form.
Disclaimer: The crystal healing information above is provided as guidance only. It is not intended for, and neither should it be taken as professional medical advice nor a substitute for any professional medical service. Love Amber x Ltd shall not be liable for any direct or indirect, consequential, incidental, punitive, special or otherwise damages arising out of access or use of this site and its products. The material provided is for information and educational purposes only and is not a substitute for medical treatment or diagnosis. We assume no responsibility for treatment or cure of any illness or disease.
Measuring for a Necklace
Measure in centimetres leaving a 2 finger gap between the neck and the tape.
Ensure it is not too long as they can get it over their chin and into the mouth.
Amber is not for chewing and as it is a resin it will shatter under pressure.
If it is too tight it could be uncomfortable and pose a risk.
We sell necklaces from 28cm up to 40cm for children and 40cm to 70cm for adults.
Measuring for Anklets and Bracelets
Ensure the fit is snug and not too loose as it will roll over the ankle and fall off.
If it is too tight it will become uncomfortable.
Measure the child in the standing position to ensure the ankles can flex correctly with comfort when walking.
Measure in centimeters using a measuring tape or a piece of string and a ruler.
You should be able to get the tip of your finger under the tape.
Please note, children between 3 and 5 years old should wear as an anklet and not a bracelet.
UK tracked first class postage and packing is just £3
In addition flat rate postage to the rest of Europe will be capped at £5.99 for amber.
International tracked postage will be capped at £9.99
You can request tracked international postage by emailing us prior to ordering.
Fast Shipping! Items sent on the same day if ordered before 3pm Monday-Friday.
All amber / gemstone orders will be sent by Royal Mail First Class in a protective padded envelope
Delivery in the UK from 2-3 days after you receive the dispatch email
Delivery in Europe (6-10 days) and Worldwide from 12 – 14 days
We have no control over exact postal services time once they leave our hands via Royal Mail. The above are estimated times only.
The Seller shall not be held liable for any losses, expenses or consequential loss incurred by the Buyer or any other person or company however arising whether directly or indirectly out of a failure to meet an estimated delivery date. The Buyer will be notified by (Dispatch Confirmation) email once the order has been dispatched. You can also log into your account to check your order status.
Missed Delivery: If you have missed a delivery you should follow the instructions left by the Royal Mail.
Returns

&

Exchanges
Returned goods preferably need to be in original package and returned within 30 days of defect. Please ensure you have paid the correct postage (First class large letter stamp) and you use a padded envelope. Non padded envelopes have arrived here empty! There is nothing we can do if that happens.
The Buyer must obtain a proof of posting certificate (or country equivalent) from Royal Mail or equivalent postal service.
Please ensure outside packaging is secure. We cannot be liable for loss or damage in the post due to inadequate packaging.
For your full peace of mind we offer a 365 day warranty for material and workmanship. Please note we cannot accept responsibility for damage resulting from misuse.
If exchanging please include £3 for return postage and packing. If returning for a bigger size, please include the price difference or your paypal email so we can invoice you for the extra cost.
Please note when returning for a refund, the original purchase price includes postage and packing of £3. This is not refundable.
Please return to 2 Haygreen Road, Witham, Essex, CM8 1FS
If you receive a defective item we will replace it. Please return the item to us with a note explaining the defect.
Consumers have the right to cancel purchases from 7 days of receipt and this must be put in writing.
If when you order and we are out of stock, we will offer you an alternative product.
If this is not what you want then we will issue you with an immediate refund.
You must contact us within 48 hours of receipt of goods if you wish to return part or all of your Order.
Consumer Protection (Distance Selling) Regulations 2000 and colour reproduction.
Please note that we try our hardest to reproduce the colours of the products with the photographs on our page. However, this is not always possible and the colours may differ very slightly due to it being a natural product and no two pieces are identical.
If you are unhappy with your product when you receive it please contact us within 48 hours of the day the order was delivered (cooling off period), then we will gladly refund your money on receipt of the returned product in accordance with our return policy.
We do not refund the postage or packing cost of returning any product.
Faulty or damaged products can be returned for a full refund or replacement at the discretion of the customer.
Your account will be credited within 14 days of receipt of the returned goods.
We always treat customers as we wish to be treated and will help resolve issues as quick as possible.
We abide fully with distance selling regulations.
Some things to try before returning
If the anklet is slightly tight, you can tighten the little knots by pulling gently but don' t hold by clasps when doing so as they will snap. You should be able to gain a centimetre by doing this. It that doesn't work, please return for larger but there may be further costs involved as bigger items cost slightly more.

If you purchased two anklets for one child and they are slightly tight or you find it hard to fasten them on your little wriggler then you can screw together, wrap around and fasten.

If you have purchased two anklets and they are too big, you can entwine them by adding one to the anklet, then weaving the other (under and over) and fasten as that will keep them both on.

If the child likes to pull them, please keep hidden under a sock as pulling hard will cause them to snap at the safety clasps.
Please feel free to contact me if you need any more information.