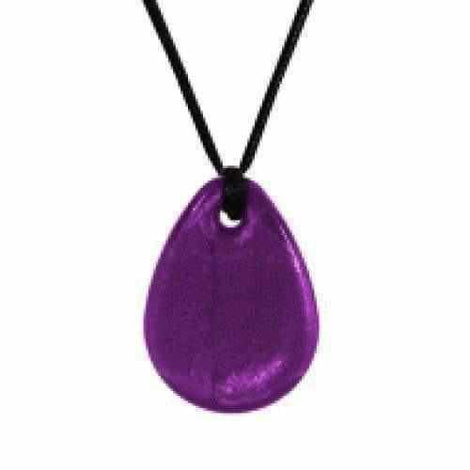 Gumigem Chewigem Baby Teething Necklace Amethyst Heather Purple Raindrop Silicone Teether or Sensory Toy
All about the Raindrop Pendant...The GUMIGEM Raindrop is another classic, simple and elegant shape giving you a stylish accessory that is ideal for mums with inquisitive babies. It is also suitable for those with sensory needs.It also makes a lovely gift for anyone who looks after your baby from gorgeous...
Trusted UK Brand. Worldwide Shipping. 6 Months Warranty.
All about the Raindrop Pendant...
The GUMIGEM Raindrop is another classic, simple and elegant shape giving you a stylish accessory that is ideal for mums with inquisitive babies.
It is also suitable for those with sensory needs.
It also makes a lovely gift for anyone who looks after your baby from gorgeous grannies to adorable aunties! This shape is easy for little hands to hold.
Each Raindrop Pendant is...
It is approx. 2 inches across.
Height 5.7cm
Width 4.2cm at widest point
Thickness 1 cm at thickest point
Long cord 94cm easily cut to the desired length
Raindrop Pendant - 'Heather' purple - Chewigem

A classic and simply shaped pendant, just like a heavy raindrop!  This one is a rich shiny heather purple.
Our experience tells us these will last 80 hours+ of solid, aggressive chewing before damage is seen, at which point they should be discarded.
We are very proud to stock the stylish CHEWIGEM™ range of jewellery, designed to look amazing whilst discreetly serving the need to chew.

Many children and adults who have sensory issues find chewing a way of remaining calm. 

These lovely pieces of jewellery discreetly serve that need and are up-to-the-moment designs that look great too.

Reasons to LOVE CHEWIGEM™...
Non-toxic and therefore safe to chew
Hard wearing and tough (but not indestructible and will need to be replaced once damaged, the speed at which this happens will be faster with aggressive chewers  Please also note that children with fully developed teeth or aggressive biters may be able to damage a Chewigem, so adult supervision is recommended.
Stylish, discreet and available in a wide range of shapes and colours
Although not indestructible, more reassuring than chewing on unsuitable items that may contain toxins, be damaging to teeth or are expensive, such as school uniforms and books.
Washable in a steriliser, top rack of the dishwasher or just hot soapy water.
Not made of hard beads, reducing any risk of wear and damage of the teeth
Priced in line with most high street necklaces despite the high quality of the materials
CHEWIGEM ™ is a family run business
N.B Screen resolutions vary so the colours may be slightly different. Marbled effect and mixed colours vary due to the manufacturing process, no two are exactly the same.

It is hard to accurately rate how durable they will be due to the huge variance across the spectrum.

No two 'chewers' are the same. There is a chance our products will not be suitable. Nothing is indestructible and they will damage in time, how quickly is difficult to say, but it will be faster for more aggressive chewers.

The clasp is NOT for chewing (small part choking hazard) if you think your child will chew the clasp, then this product is not suitable.

Please ensure these are used under adult supervision and removed from use as soon as damage appears.

++Warning - not suitable for children under 36 months due to long cord - strangulation hazard++ 
**Please note that pendants with a mix of colours are totally unique and no two mixes will be exactly the same - this can affect how they look and therefore they may not be identical to the ones shown, but will be very similar **
N.B Screen resolutions vary so the colours may be slightly different. Marbled effect and mixed colours vary due to the manufacturing process, no two are exactly the same.
Warning: Gumigem necklace - children & babies must only interact with the necklace when worn by an adult due to long cord - strangulation risk this is not a toy
BPA, lead, latex, phthalate free silicone jewellery.
Measuring for a Necklace
Measure in centimetres leaving a 2 finger gap between the neck and the tape.
Ensure it is not too long as they can get it over their chin and into the mouth.
Amber is not for chewing and as it is a resin it will shatter under pressure.
If it is too tight it could be uncomfortable and pose a risk.
We sell necklaces from 28cm up to 40cm for children and 40cm to 70cm for adults.
Measuring for Anklets and Bracelets
Ensure the fit is snug and not too loose as it will roll over the ankle and fall off.
If it is too tight it will become uncomfortable.
Measure the child in the standing position to ensure the ankles can flex correctly with comfort when walking.
Measure in centimeters using a measuring tape or a piece of string and a ruler.
You should be able to get the tip of your finger under the tape.
Please note, children between 3 and 5 years old should wear as an anklet and not a bracelet.
UK tracked first class postage and packing is just £3
In addition flat rate postage to the rest of Europe will be capped at £5.99 for amber.
International tracked postage will be capped at £9.99
You can request tracked international postage by emailing us prior to ordering.
Fast Shipping! Items sent on the same day if ordered before 3pm Monday-Friday.
All amber / gemstone orders will be sent by Royal Mail First Class in a protective padded envelope
Delivery in the UK from 2-3 days after you receive the dispatch email
Delivery in Europe (6-10 days) and Worldwide from 12 – 14 days
We have no control over exact postal services time once they leave our hands via Royal Mail. The above are estimated times only.
The Seller shall not be held liable for any losses, expenses or consequential loss incurred by the Buyer or any other person or company however arising whether directly or indirectly out of a failure to meet an estimated delivery date. The Buyer will be notified by (Dispatch Confirmation) email once the order has been dispatched. You can also log into your account to check your order status.
Missed Delivery: If you have missed a delivery you should follow the instructions left by the Royal Mail.
Returns

&

Exchanges
Returned goods preferably need to be in original package and returned within 30 days of defect. Please ensure you have paid the correct postage (First class large letter stamp) and you use a padded envelope. Non padded envelopes have arrived here empty! There is nothing we can do if that happens.
The Buyer must obtain a proof of posting certificate (or country equivalent) from Royal Mail or equivalent postal service.
Please ensure outside packaging is secure. We cannot be liable for loss or damage in the post due to inadequate packaging.
For your full peace of mind we offer a 365 day warranty for material and workmanship. Please note we cannot accept responsibility for damage resulting from misuse.
If exchanging please include £3 for return postage and packing. If returning for a bigger size, please include the price difference or your paypal email so we can invoice you for the extra cost.
Please note when returning for a refund, the original purchase price includes postage and packing of £3. This is not refundable.
Please return to 2 Haygreen Road, Witham, Essex, CM8 1FS
If you receive a defective item we will replace it. Please return the item to us with a note explaining the defect.
Consumers have the right to cancel purchases from 7 days of receipt and this must be put in writing.
If when you order and we are out of stock, we will offer you an alternative product.
If this is not what you want then we will issue you with an immediate refund.
You must contact us within 48 hours of receipt of goods if you wish to return part or all of your Order.
Consumer Protection (Distance Selling) Regulations 2000 and colour reproduction.
Please note that we try our hardest to reproduce the colours of the products with the photographs on our page. However, this is not always possible and the colours may differ very slightly due to it being a natural product and no two pieces are identical.
If you are unhappy with your product when you receive it please contact us within 48 hours of the day the order was delivered (cooling off period), then we will gladly refund your money on receipt of the returned product in accordance with our return policy.
We do not refund the postage or packing cost of returning any product.
Faulty or damaged products can be returned for a full refund or replacement at the discretion of the customer.
Your account will be credited within 14 days of receipt of the returned goods.
We always treat customers as we wish to be treated and will help resolve issues as quick as possible.
We abide fully with distance selling regulations.
Some things to try before returning
If the anklet is slightly tight, you can tighten the little knots by pulling gently but don' t hold by clasps when doing so as they will snap. You should be able to gain a centimetre by doing this. It that doesn't work, please return for larger but there may be further costs involved as bigger items cost slightly more.

If you purchased two anklets for one child and they are slightly tight or you find it hard to fasten them on your little wriggler then you can screw together, wrap around and fasten.

If you have purchased two anklets and they are too big, you can entwine them by adding one to the anklet, then weaving the other (under and over) and fasten as that will keep them both on.

If the child likes to pull them, please keep hidden under a sock as pulling hard will cause them to snap at the safety clasps.
Please feel free to contact me if you need any more information.