Baltic Amber Jewellery Maintenance & Regular Check Ups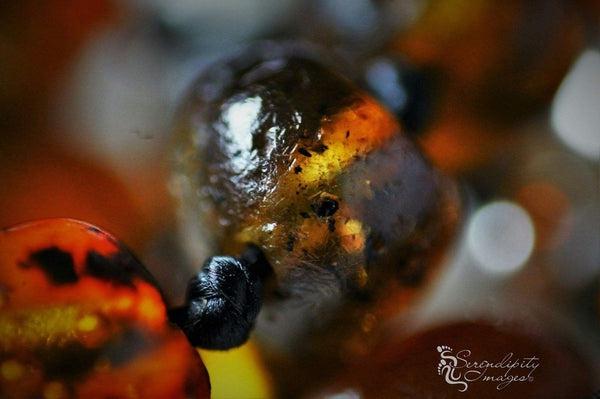 A close up of our 'Earthy' rare green amber beads taken by one of our customers called Erin.
Image Copyrighted.
Even though the amber in your jewellery may be over 40 million years old, it still needs careful care and attention. Below are some tips about what to look for on a regular maintenance check-up.
Beads – Irregularities are normal, it's a natural product. Deep cracks should be carefully inspected. You might be lucky to find a little grass or a fly preserved in there. It would be great to hear back on that!
Screw Clasps – check that they are still secure and that there are no cracks in the screw barrel from wear and tear. Ensure it still fastens tightly but don't screw it too tight.
String – check it is still secure and not fraying.
Adult elasticated jewellery -  check to see if the knot is still secure and be careful not to catch it on anything or pull it suddenly.
When jewellery is not being used, store it in the little bag provided to stop it getting scratched.
Check that it is not becoming too tight. If it is then its time for an upgrade to a bigger size.
If the amber is no longer shiny, you can cleanse it by rinsing in warm water, pat dry and rub a small amount of coconut oil or olive oil on the beads to restore shine. Please note that raw amber will become slightly shiny over time as it picks up the natural oils from the skin. If it is rubbed with oil it will become shiny (ish) too.
For crystal and gemstone jewellery take advantage of the full moon and leave it to 'charge' in the moonlight.
I have also written another blog with tips about how to make your jewellery bigger or smaller in order to get more time out of it. 
Lastly, always follow the safety guides on our website and the information enclosed with your items. Never take a chance on safety.
As always, if you have any questions give me a shout. We try to be as responsive as we can and we love to hear your feedback.
Thank you for being part of the Love Amber x family
All the very best
Marie, Simon and little Eddie xx