Coupon Promo Discount Codes Love Amber x Teething Necklace Anklet
Silicone Love Amber Teething Necklaces, Bracelets & Baltic Amber Jewellery
Join us on our Facebook page for our latest discount codes and giveaways.
Enter codes at the checkout while shopping. Code VIP gets you 5% off your entire order at all times. Codes cannot be applied after checking out.
Did you want a bigger discount on your next order?
Let's team up! If you would like to help us raise awareness of our products, we will gladly give you a 15% discount and your friends!
Here's how you can help:
Share Post-purchase Links. When you purchase from our store you will receive an affiliate link to share with your friends. If they purchase through the link, they will get 20% off and so will you off your next purchase. Share as many times as you like as it is personal to you.
Get paid to refer! Join our generous referral program where you will be paid 10% of every referred sale from your link. Join up here!
Please share your images of our Instagram page. Use the hashtag #loveamberx or tag us in the picture.
We love seeing your pictures of our products and we love to share them.
Please don't use aggressive linking / spamming on social media groups as admin do not like it. Remember you are representing our brand and we are not pushy...
Thanks for helping us raise awareness and spreading the Amber love! :)
If you are a member of the NHS you can view our staff discounts here.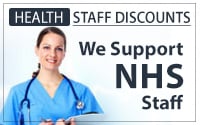 Best Wishes
Marie, Simon and little Eddie
Love Amber Teething Necklaces and Baltic Amber Jewellery