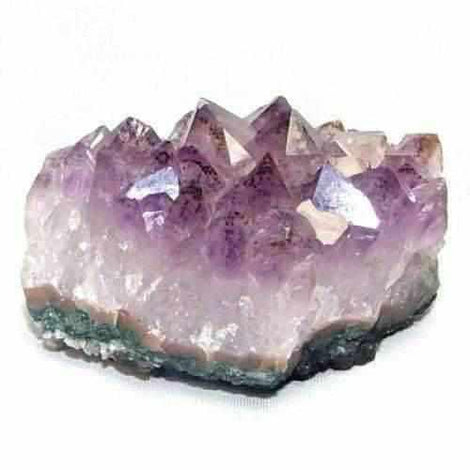 Pisces Birthstone Purple Amethyst Cluster 1 Small Piece Druzy
Amethyst Pisces Birthstone Sleep, Calming, Protection From Negativity & Stress Amethyst is the most popular variety of quartz crystals and it is considered the most powerful and protective stone. What is Druzy Amethyst?  Druzy Amethyst is a type of amethyst that features tiny crystal formations on the surface of the...
Trusted UK Brand. Worldwide Shipping. 6 Months Warranty.
Amethyst Pisces Birthstone
Sleep, Calming, Protection From Negativity & Stress
Amethyst is the most popular variety of quartz crystals and it is considered the most powerful and protective stone.
What is Druzy Amethyst? 
Druzy Amethyst is a type of amethyst that features tiny crystal formations on the surface of the stone, creating a glittering effect. The name "druzy" comes from the word "druse," which refers to a coating of fine crystals on a rock surface. This unique gemstone is often found in geodes and cavities within rocks and can come in various shades of purple, from pale lilac to deep violet. Its sparkle and colour make it an intriguing choice for jewellery designers who want to create one-of-a-kind pieces.
Druzy amethyst is a gemstone that has recently gained popularity in the world of jewellery. It is known for its unique blend of glittering crystals and deep purple hues, making it an eye-catching addition to any collection.
Amethyst is a powerful and versatile stone. It vibrates at a very high spiritual level and has strong healing and cleansing properties. Amethyst can encourage self-control, calm severe emotions and aid sleep and meditation. It is traditionally used as the Pisces birthstone.
Physically Amethyst can help overcome addictions and reduce overindulgence. It is beneficial to the mind as it calms or stimulates whenever appropriate.
Emotionally Amethyst can dispel sadness, rage, anger, fear and anxiety. It can alleviate grief and can assist in coming to terms with a loss. Amethyst assists emotional centring by balancing out highs and lows.
Spiritually Amethyst can increase spiritual awareness, promote spiritual wisdom, and selflessness and encourage a love of the divine. It is an exceptional stone for meditation, it raises vibrations, helps to find inner peace and enables higher levels of consciousness. Amethyst can heighten intuition and enhance psychic abilities. Amethyst can help protect against psychic attacks by changing the energy into a love vibration and can also block geopathic stress and negative environmental energies.
Amethyst is a powerful and protective stone. It guards against psychic attack, transmuting the energy into love and protecting the wearer from all types of harm, including geopathic or electromagnetic stress and ill wishes from others. Amethyst is a natural tranquiliser, it relieves stress and strain, soothes irritability, balances mood swings, and dispels anger, rage, fear and anxiety. Alleviates sadness and grief, and dissolves negativity. Amethyst activates spiritual awareness, opens intuition and enhances psychic abilities. It has strong healing and cleansing powers. Amethyst encourages sobriety, having a sobering effect on overindulgence of alcohol, drugs or other addictions. It calms and stimulates the mind, helping you become more focused, enhancing memory and improving motivation. Amethyst assists in remembering and understanding dreams. Encourages selflessness and spiritual wisdom.
Amethyst is a lilac to purple variety of the mineral Quartz. It forms beautiful crystals inside volcanic lava bubbles known as geodes . Due to its beautiful colour Amethyst is one of the most popular gemstones. The ancient Greeks believed Amethyst prevented drunkenness. Commonly from Brazil.
Birthstone: February
Zodiac Signs: Aquarius Pisces Aries Sagittarius
Chakra: Third Eye
Caring for and cleaning your druzy amethyst jewellery.
Druzy amethyst is a delicate gemstone that requires proper care to maintain its captivating beauty. Avoid exposing your jewellery to harsh chemicals like acidic cleaners or perfumes, which can damage the stone's surface and affect its sparkle. Instead, clean your druzy amethyst jewellery with a soft cloth and mild soap and water solution when necessary. When storing your jewellery, keep it in a dry and cool place away from direct sunlight to prevent fading or discolouration over time. With proper care and cleaning, your druzy amethyst jewellery can remain a cherished piece for years to come.
Measuring for a Necklace
Measure in centimetres leaving a 2 finger gap between the neck and the tape.
Ensure it is not too long as they can get it over their chin and into the mouth.
Amber is not for chewing and as it is a resin it will shatter under pressure.
If it is too tight it could be uncomfortable and pose a risk.
We sell necklaces from 28cm up to 40cm for children and 40cm to 70cm for adults.
Measuring for Anklets and Bracelets
Ensure the fit is snug and not too loose as it will roll over the ankle and fall off.
If it is too tight it will become uncomfortable.
Measure the child in the standing position to ensure the ankles can flex correctly with comfort when walking.
Measure in centimeters using a measuring tape or a piece of string and a ruler.
You should be able to get the tip of your finger under the tape.
Please note, children between 3 and 5 years old should wear as an anklet and not a bracelet.
UK tracked first class postage and packing is just £3
In addition flat rate postage to the rest of Europe will be capped at £5.99 for amber.
International tracked postage will be capped at £9.99
You can request tracked international postage by emailing us prior to ordering.
Fast Shipping! Items sent on the same day if ordered before 3pm Monday-Friday.
All amber / gemstone orders will be sent by Royal Mail First Class in a protective padded envelope
Delivery in the UK from 2-3 days after you receive the dispatch email
Delivery in Europe (6-10 days) and Worldwide from 12 – 14 days
We have no control over exact postal services time once they leave our hands via Royal Mail. The above are estimated times only.
The Seller shall not be held liable for any losses, expenses or consequential loss incurred by the Buyer or any other person or company however arising whether directly or indirectly out of a failure to meet an estimated delivery date. The Buyer will be notified by (Dispatch Confirmation) email once the order has been dispatched. You can also log into your account to check your order status.
Missed Delivery: If you have missed a delivery you should follow the instructions left by the Royal Mail.
Returns

&

Exchanges
Returned goods preferably need to be in original package and returned within 30 days of defect. Please ensure you have paid the correct postage (First class large letter stamp) and you use a padded envelope. Non padded envelopes have arrived here empty! There is nothing we can do if that happens.
The Buyer must obtain a proof of posting certificate (or country equivalent) from Royal Mail or equivalent postal service.
Please ensure outside packaging is secure. We cannot be liable for loss or damage in the post due to inadequate packaging.
For your full peace of mind we offer a 365 day warranty for material and workmanship. Please note we cannot accept responsibility for damage resulting from misuse.
If exchanging please include £3 for return postage and packing. If returning for a bigger size, please include the price difference or your paypal email so we can invoice you for the extra cost.
Please note when returning for a refund, the original purchase price includes postage and packing of £3. This is not refundable.
Please return to 2 Haygreen Road, Witham, Essex, CM8 1FS
If you receive a defective item we will replace it. Please return the item to us with a note explaining the defect.
Consumers have the right to cancel purchases from 7 days of receipt and this must be put in writing.
If when you order and we are out of stock, we will offer you an alternative product.
If this is not what you want then we will issue you with an immediate refund.
You must contact us within 48 hours of receipt of goods if you wish to return part or all of your Order.
Consumer Protection (Distance Selling) Regulations 2000 and colour reproduction.
Please note that we try our hardest to reproduce the colours of the products with the photographs on our page. However, this is not always possible and the colours may differ very slightly due to it being a natural product and no two pieces are identical.
If you are unhappy with your product when you receive it please contact us within 48 hours of the day the order was delivered (cooling off period), then we will gladly refund your money on receipt of the returned product in accordance with our return policy.
We do not refund the postage or packing cost of returning any product.
Faulty or damaged products can be returned for a full refund or replacement at the discretion of the customer.
Your account will be credited within 14 days of receipt of the returned goods.
We always treat customers as we wish to be treated and will help resolve issues as quick as possible.
We abide fully with distance selling regulations.
Some things to try before returning
If the anklet is slightly tight, you can tighten the little knots by pulling gently but don' t hold by clasps when doing so as they will snap. You should be able to gain a centimetre by doing this. It that doesn't work, please return for larger but there may be further costs involved as bigger items cost slightly more.

If you purchased two anklets for one child and they are slightly tight or you find it hard to fasten them on your little wriggler then you can screw together, wrap around and fasten.

If you have purchased two anklets and they are too big, you can entwine them by adding one to the anklet, then weaving the other (under and over) and fasten as that will keep them both on.

If the child likes to pull them, please keep hidden under a sock as pulling hard will cause them to snap at the safety clasps.
Please feel free to contact me if you need any more information.