How do I choose an amber anklet bracelet necklace or silicone safe baby teething necklace?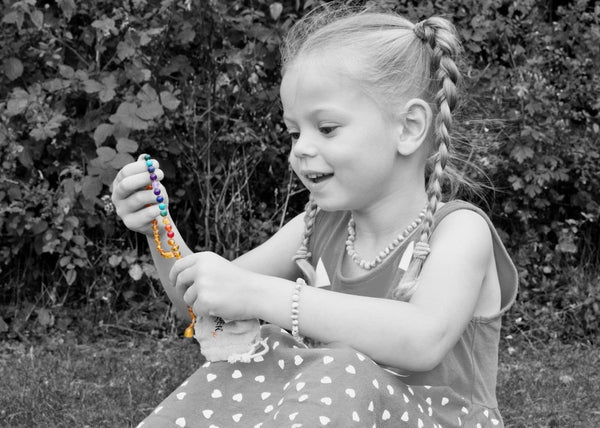 You can see our teething necklaces and bracelets in our silicone jewellery section.
We often get many questions about how to order our amber and silicone teething products so I have created this little blog to help you.
Who are you buying for?
If it's for an adult or a child you can select the options from our menu where it says shop now.
What item do you need?
Select whether you need to buy an anklet, necklace or a bracelet or Silicone teether.
Browse our collections. See whether you prefer the plain Baltic amber or Baltic amber and gemstones. The gemstone descriptions are given on the product. All items contain Baltic amber. Go with what appeals to you the most.
Measure 
Measure your child or yourself following the measuring and safety guides 
Why is this important? If the item is too big it can roll off and get lost.
Our smallest child bracelet is 13cm for safety reasons.
Choose item
Select the size required from the drop-down menu and click add to basket. If we are out of stock of any items, you can add your email to the notification list. When the item is back in stock you will get an email.
Viewing basket
Click basket icon, then view basket to see the item or items you have selected. If you have any delivery notes etc that you need to add, please input them in the 'Message to Seller' box.
Discount codes and paying
If you want to use express checkout click PayPal and log into your account.
If you want to use Visa, Apple pay, Google Pay (Phones only) or bank transfer click the checkout button and log into your account or checkout as a guest.
If you create an account you can keep track of your order history etc.
Choose a shipping method (Free first class Royal Mail or Bagit express next day (fees))
Enter the discount code on this page if you have one.
Continue to the payment page.
Select Paypal, Apple Pay (Phones), Visa, Mastercard etc or bank transfer.
Enter the details
Review order and check all is correct.
Place order
You will receive an order confirmation by email or Facebook (if opted in).
Once the item is shipped (which is usually within 24 hours Monday to Friday) you will be notified and provided with tracking if required.
Wait for delivery of your gorgeous item.
Within a week our Trustpilot review software will message you for feedback on the ordering experience. It would really help us if you could rate us, please?
If you do get stuck, lost, confused or have any questions at all then please contact us. You will be speaking directly to the owners Marie or Simon.
You can follow us on Facebook and Instagram too. Come and join us.
Thank you for visiting.
Welcome to the Love Amber x family 
P.S. If you are looking for amber teething beads anklets or bracelets, see our safety blog about why they can no longer be called that.