How to choose the perfect gemstone or crystal for your needs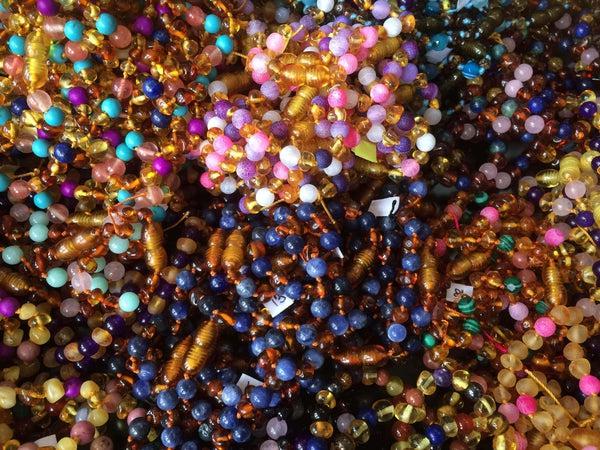 With so many gemstone necklaces and stones to select from, how do you choose the best ones for you? The good news: it's impossible to make a wrong choice. When used properly, every therapeutic gemstone we offer will bring uplifting benefits, because all of our gemstones work holistically and in a balanced way. 

Choose an issue you want to address or a goal you want to achieve.
A good place to start is to consider which areas of your life you would like to support, improve, or enhance.
To identify the issues or goals you want to address, ask yourself:
What types of issues or conditions keep coming up in my life?
Which areas of my life are most problematic right now?
In which areas do I want the most support right now?
How do I want to grow the most?
While all therapeutic gems work holistically, most gems also have an affinity with one particular aspect of our being—physical, emotional, mental, and so on. This means that certain gems are particularly helpful for addressing specific issues or goals.
Based on your answers above, determine which area is most involved with the issue or goal you want to focus on. Then check out our Gemstone Collections.
Another good tip is to see which items you are drawn to the most and then read the descriptions. Your own inner voice often provides the best guidance. If you need any further information you can search for the stone's meanings through your search engine or refer to the crystal bible by Judy Hall.
Amber— Calms nerves, enlivens the body, and rekindles energy.
Amethyst— Releases negative thought programming, clears emotional blockages, moves you into cooperation with other supportive forces, allows you to "sense" (use sensibility) with your emotions, and moves you into a more conscious state to see the cause and effect of your emotional responses.
Aquamarine— Quiets fears, phobias, and anxiety; releases expectation; shields, stabilizes and eases discomforts and hiccups (caused by fear).
Aventurine— Purifies the emotional body and calms nerves.
Bloodstone— Grounds the emotional heart, alleviates distress and anxiety, used as a support tool.
Botswana agate— Soothes repressed emotions and moves you beyond limits; it's excellent for smokers whose nerves are on edge.
Carnelian— Works with extreme negative states such as envy, fear, rage, and sorrow. Connects to the Higher Self for emotional clearing, to move negative states into states of love; it dispels apathy and encourages trust by connecting the lower chakras (base, sacral, and solar plexus) to the heart.
Citrine— Calms fears, promotes happiness, and frees energy for spontaneous expression energies.
Fluorite— All colours of fluorite calm the emotional body. Purple fluorite helps to break up emotional blockages.
Lapis lazuli— Provides objective insight and mental clarity. Unblocks and releases emotions from the heart for self-acceptance. Reconnects the wounded parts.
Malachite— A heavy releaser of negative emotions, it's best used in conjunction with rose quartz to bring peace to emotions after releasing.
Moonstone— Reduces emotional tension, provides for missing emotional nurturing, and helps to bring a sense of peace to the emotions.
Obsidian— A huge release of negative emotions, it is somewhat overpowering in releasing old energy patterns by piercing any resistance. Transmutes energy blockages into white light.
Onyx— Alleviates mental confusion and absorbs grief.
Rose quartz— Soothes and purifies all emotions. Provides loving energy and comfort to those with raw emotional states.
Sodalite— Calms emotions and numbs mental chatter.
Tiger eye— Provides mental and emotional discipline for people who are unable to appreciate self-responsibility.
Unakite— The two colours of this crystal, pink and green, relate to the emotional (pink = movement) and the physical (green = grounding) parts of the heart chakra. This crystal supports moving on after disappointment.
Disclaimer: The crystal healing information above is provided as guidance only. It is not intended for, and neither should it be taken as professional medical advice nor a substitute for any professional medical service. Love Amber x Ltd shall not be liable for any direct or indirect, consequential, incidental, punitive, special or otherwise damages arising out of access or use of this site and its products. The material provided is for information and educational purposes only and is not a substitute for medical treatment or diagnosis. We assume no responsibility for treatment or cure of any illness or disease.