Teething Gels Removed From The Shelves!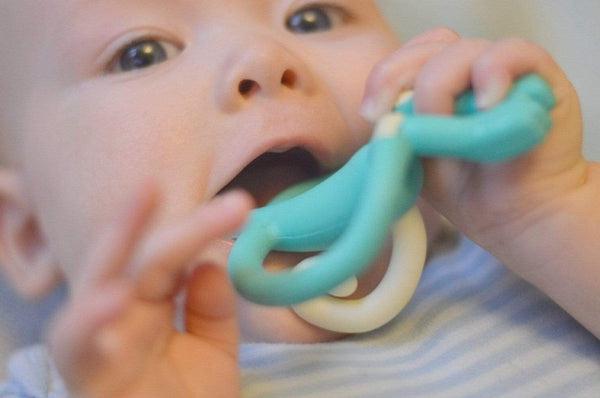 Baby teething gels are to be removed from supermarket shelves after health officials said there was little evidence they worked. Until now, products such as Bonjela and Calgel, have been available from garages, supermarkets and corner shops.
However, from 1 January all teething gels for babies that contain lidocaine - a mild local anaesthetic - will only be available from behind pharmacy counters.
Personally, the idea of a numbing gel being swallowed by a baby did not sit well with me. The numbing effect of these if swallowed can temporarily paralyse throat muscles making swallowing difficult. US Food and Drug Administration (FDA) earlier this year found that using lidocaine solution as a pain reliever for babies could cause seizures and even death. 
The move follows a recent investigation by the Medicines and Healthcare products Regulatory Agency (MHRA), which said that there is little evidence teething gels containing an anaesthetic are effective at easing pain. 
Instead, the health officials said they should only be used as a second-line treatment, after attempting other methods to ease a babies' pain, such as using cooled teething rings or massaging the gums.
The review also said pharmacists should discuss these issues and risks with parents before selling them the gels.
Dr Sarah Branch, deputy director of MHRA's Vigilance and Risk Management of Medicines (VRMM), said "Our review showed there is a lack of evidence of benefit to using teething gels. 
"To help babies and children with teething, parents and caregivers should try non-medicine options such as rubbing or massaging the gums or a teething ring. 
"We want to make sure you get the right information about teething. 
"If your child continues to have problems with teething, talk to your pharmacist or healthcare professional about the best options."
The MHRA's investigation was prompted by a warning issued by the US Food and Drug Administration (FDA) earlier this year, which found that using lidocaine solution as a pain reliever for babies could cause seizures and even death.
In this new report, the MHRA stressed that products in the UK are less strong than those sold in the US, and as such, carry a very small risk of side effects.
In fact, they found only 447 reports of lidocaine poisoning to children had been made over a three-year period to the UK National Poisons Information Service - of which 437 caused 'minor' or 'no' harm. The remaining ten were 'unknown'.
If you're concerned about the effects of teething gels, there are alternatives you can turn to to help soothe your baby's pain.
"All medication, even that available over the counter and from supermarket shelves, carries risks and the chance of an adverse reaction from an individual," Sarah Ockwell-Smith, mother of four and author of 'The Gentle Parenting Book'  previously told The Independent. 
"These risks, however, are very small and the rigorous testing that pharmaceutical products go through ensures that medication is as safe as possible, especially for babies and children. 
"Many parents, however, decide that they would prefer to treat their baby's teething pain naturally. There are many natural teething alternatives available in high street chemists, but my three top tips are as follows:
If you are breastfeeding, express some breastmilk and use a small lolly mould to make a breastmilk lolly for your baby to suck, the cold can relieve the pain.
Silicone teething jewellery is a great investment. These are designed for mum to wear (as bangles or necklaces) so they're always to hand and babies can chomp down heavily into them. The pressure here helps to alleviate discomfort in the gums
Offer lots of hugs and cuddles. Skin-to-skin contact, for example in the bath, is even better. Hugging helps to release the hormone oxytocin which has a mild pain relieving effect. Babies who are teething are usually clingier than usual - go with it and give them all the love and reassurance they need as much as you can."
Article Source: Independent Newspaper 14th December 2018
Anbesol also contains this ingredient but it is not mentioned above but I suspect this will no longer be freely available to purchase in supermarkets. Its always being recommended by other parents for its great numbing powers. We will just have to wait and see.