What exactly is a baby teething necklace? Baltic amber is not for chewing!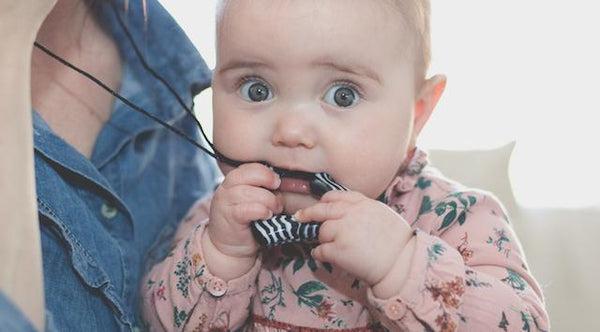 Baby chewing a silicone pendant necklace which is worn by the adult.
Recently there has been a lot of talk about amber teething necklaces and a vast array of misinformation around amber and baby teething jewellery in general. I have read many badly written articles about them across social media etc. The researchers appear to mix up numerous products while sticking them under the label of baby amber teething necklaces.
I decided to finally get round to writing this blog to distinguish between the types of baby teething jewellery, components and amber jewellery for older children. I have also added photographs to show the clear difference between them all.
Silicone Baby Teething Necklace
This is a baby teething necklace made from silicone. It is designed for the mother to WEAR while the baby chews on the necklace while in a sling, feeding, nursing or while sitting on the mothers lap. Under no circumstances should the jewellery ever be worn by a baby or child. It is not designed to be used like that. It does not help that some manufacturers of these products show images of babies wearing them. This implies that they are safe for the baby to wear and they are not. The silicone pieces threaded on a cord with a pop clasp. The caregiver must wear it while the baby interacts with it safely. Our Gumigem range points out this safety aspect on our descriptions here.
Wooden & Crochet Baby Teething Necklace
Other designs of this necklace include ones made with wooden fiddle beads, crochet or silicone beads. I have never in 7 years seen a baby teething necklace made with marble beads. There's a silicone design called marbling which is achieved by mixing two silicone colours to get a two-tone/marbled effect. It is not marble....
'Marbled' Silicone Teething Beads
Marbled Silicone Baby Teething Necklace
Teething necklace safety is very clear about the fact that the baby is not to wear these or chew on them or play with them unsupervised. They are certainly not supposed to wear when asleep!
This is not the same as a baby teething necklace for chewing. This is jewellery for children over 3 years of age as per EU General Safety Regulations. This is because it is made of small parts and not due to the amber itself.
Chewing is dangerous!
There are images circulating on the internet of babies playing with and chewing amber jewellery. This does not help and it sends the wrong message that it is for chewing! Amber necklaces contain small parts. Amber is a resin and is not to be chewed. Amber will shatter under pressure and break off. At no point have we as a safety-conscious UK retailer recommended that they are to be chewed on. Our full safety guidelines can be found here.
I hope this helps explain the difference between all of the jewellery types and that there is a clear understanding about what is safe to be chewed or worn in the future.
Love Amber x UK
Baltic Amber & Gemstone Jewellery for Adults and Children.